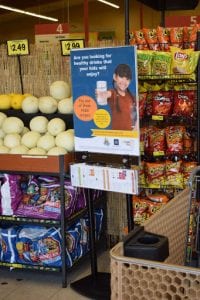 Rethink Your Drink has been busy this year developing lots of sugar-free recipes for your family to enjoy. We have over 25 delicious and low-cost recipes available, free of charge at select grocery stores in the Reno/Sparks area. They are also available for download (free of charge) on the Rethink Your Drink website. The recipes feature easy, fun and creative ways to flavor non-fat milks, and 100% juices and water using a variety of fruits, herbs and spices. The recipes are also low in cost, with some only costing $0.05/serving. You can pick up your recipes at:
Winco Foods, 9750 S Virginia St., Reno, NV
Save Mart Grocery, 525 Keystone Ave., Reno, NV
Sak N Save, 1901 Silverada Blvd, Sparks, NV
Sparks Grocery Outlet, 2020 Oddie Blvd., Sparks, NV
Scolaris Food & Drug Co., 5430 Sun Valley Blvd, Sun Valley, NV
The recipe cards are displayed near the front of the store. The cards feature directions both in English and Spanish. Additionally, bring your kids! We have developed special recipes that are just for kids for them to make and enjoy without adult help. This week, we suggest you try our Very Berry Milk recipe. The pink color of the drink and the sweet berry flavor is the perfect treat for Valentine's Day!
New recipes are added for each season. Keep checking the recipe card stands at the select grocery stores and the website for new additions!
For more information about sugary drinks, visit www.rethinkyourdrinknevada.com.